Hamabe No Futari-Lovers on the beach-
Hamabe No Futari-Lovers on the beach-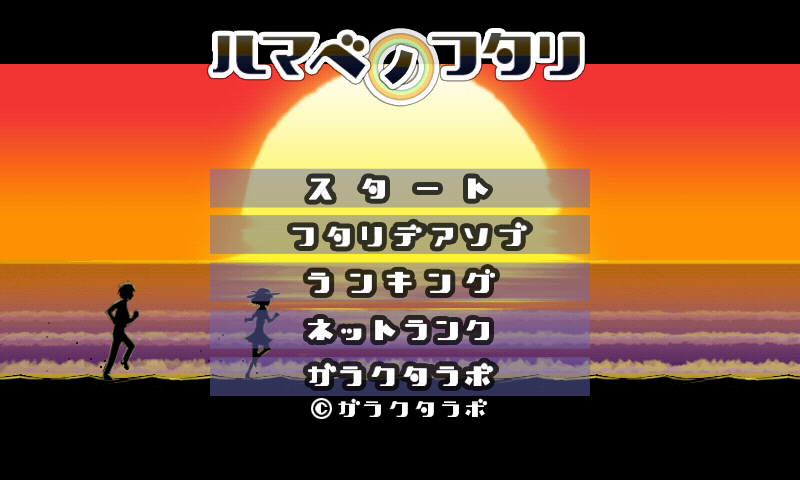 "Come on, darling! Try to get me!!" "Honey, wait up!"
Ah...! Don't let this blissful time end!
Manipulate the couple running on the beach by keeping an appropriate
distance between them,
and aim to have them run as far as possible.
It is an easy and simple game that everyone can enjoy.
The couple jump at the same time because their hearts are deeply
connected with love.
They desire to spend this blissful time endlessly.
Various obstacles such as land mines, bombs and tuna stranded to the
beach attack them,
so try to let their blissful time continue as long as possible by
utilizing their power of love (double jumping).
■ A sense of distance is important in love!
There is a "love-tension gauge" at the upper left of the screen.
By getting items, the love-tension gauge fluctuates.
If the gauge indicates the tension is completely high, there will be no
distance between the couple, so they will be together.
If the tension gets lower, the distance between the couple will be
farther, and if it gets too low, the man will disappear from the screen,
and their blissful time will end.
Try to keep an "appropriate distance" by utilizing items, and have the
couple run as far as possible!
■ Two players mode - two players can play the game at the same time.
Not only one player but also two players can enjoy this game at the same
time.
In this mode, there are two buttons (one for the man on the left, and
the other for the woman on the right),
which makes it possible for two players to manipulate each character
individually.
Stick together with your partner and play this game on St. Valentine's
Day! Let your love distance be closer!
■ Correspondence with the online ranking
Hamabe No Futari-Lovers on the beach corresponds with the online
ranking, so have fun and compete with tons of people out there!
Down Load
Jump to Android Market
Contents
Others